Welcome to my new website–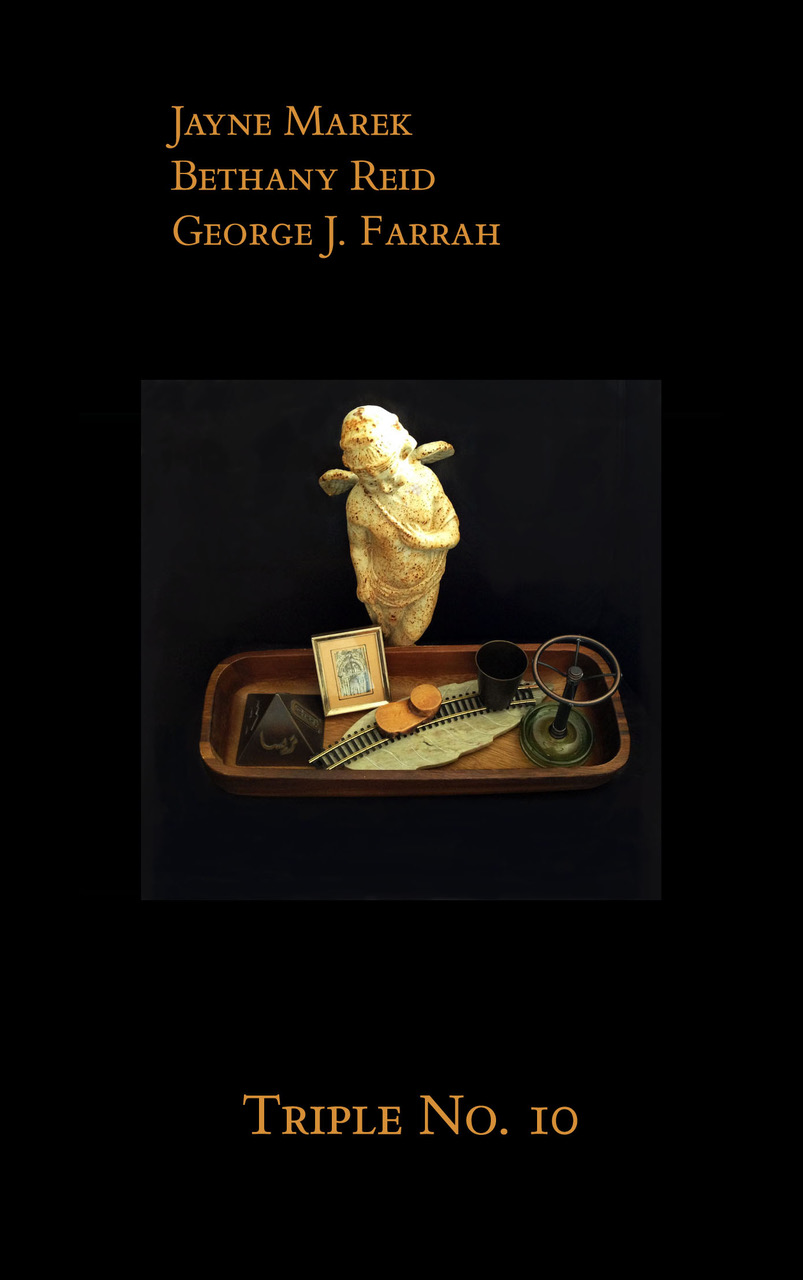 I'm pleased to announce the 2020 release of my chapbook of Emily Dickinson-inspired poems, "The Thing with Feathers," as part of Triple No. 10, published by Ravenna Press.
Triple No. 10: The Thing with Feathers
Ravenna Press
Perfect bound, 90 pages
ISBN 978-1735113166
$13.47
"We love the Triples, and this is another great one in the series. Comprising poetry by Jayne Marek and Bethany Reid plus artwork by George J. Farrah, there is substance, humor and heart throughout the pages."
–Kathryn Rantala, editor, Ravenna Press
"If Bethany Reid and Emily Dickinson were sisters, 'The Thing with Feathers' might have been plucked from their conversations. Reid riffs and argues, persuades and comments, expands and muses in a 20-poem collection that is intimate, lively, and bright. Fully engaged with Dickinson without being fawning or imitative, Reid's poetic voice confronts with sisterly glee. Her poems know the swamp and the sideshow, the mirror and the menagerie. They love to play. They embrace surprise. They are clear-eyed, wry, and deliciously fresh."
–J.I. Kleinberg, co-editor, 56 Days of August and Noisy Water: Poetry from Whatcom County, Washington
Available from Amazon.com and the following independent booksellers:
Village Books in Fairhaven (Bellingham) ($1 shipping)
Go to https://www.indiebound.org/indie-store-finder to find your local independent bookseller.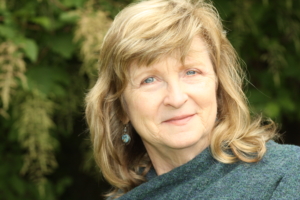 Bethany Reid is a poet, writer, editor, and writing coach. She has an MFA in poetry and a PhD in American Literature from the University of Washington. For almost thirty years, she taught composition, American literature, and Creative Nonfiction at Everett Community College and elsewhere in the greater Seattle region.
Bethany's first book, The Coyotes and My Mom: Poems, was published by Bellowing Ark Press in 1990. Her other poetry books are Be Careful (a limited-edition chapbook from Chuckanut Sandstone, 2005); Sparrow, which won the 2012 Kenneth and Geraldine Gell Poetry Prize, selected by Dorianne Laux; and Body My House, published by Seattle's Goldfish Press in 2018; her chapbook of poetic riffs, "The Thing with Feathers" (inspired by poems of Emily Dickinson), was published in 2020 as part of Triple No. 10 by Ravenna Press. Her parenting memoir, originally a creative nonfiction piece, You Are Very Upset, was published as a Kindle Short by DLG Publishing Partners, also in 2020.
In addition to the Gell Prize, Bethany's poetry has won numerous awards, including Calyx's Lois Cranston Memorial Prize, The MacGuffin's 22nd annual Poet Hunt Contest, selected by Naomi Shihab Nye, and the Olympia Poetry Network's Jeanne Lohman Prize.
Bethany has been blogging since 2009. Read more on this site, and at One Bad Poem.
"First forget inspiration. Habit is more dependable. Habit will sustain you whether you're inspired or not. Habit will help you finish and polish your stories. Inspiration won't. Habit is persistence in practice." –Octavia Butler (1947-2006)
"How we spend our days is, of course, how we spend our lives." –Annie Dillard, The Writing Life
Sparrow —
"The whole book might be seen as … a parade of tenderness and grief, joy and longing, dreams stubbed out like cigarettes in ashtrays at a diner counter, hopes held like quarter tips in a waitress's apron pocket on her long walk home….The sensory images are precise and gorgeous …, the whore's dishabille … transformed into the bride's wedding dress."
–Kathleen Kirk, author of Spiritual Midwifery, and ABCs of Women's Work
Body My House —
"…powerful stuff—crafted, courageous, poignant, resonant. I know that humming desk, those dull thumbs of crayons, those brambles along the path to the creek, that hitch in the knee. The crumpled coffee cups, cellophane wrappings. I know the string of angers chained in the muddy side yard, that sense of something 'off,' of things brewing below the surface. And those awkward hungers, those longings—their reverberations, their echoes. This work speaks to me."
–Terry Martin, author of The Light You Find
Triple No. 10: The Thing with Feathers —
"We love the Triples, and this is another great one in the series. Comprising poetry by Jayne Marek and Bethany Reid plus artwork by George J. Farrah, there is substance, humor and heart throughout the pages."
–Kathryn Rantala, editor, Ravenna Press