Posts
https://www.bethanyareid.com/wp-content/uploads/2021/07/9781734187380.jpg
2250
1736
Bethany
https://www2.bethanyareid.com/wp-content/uploads/2021/02/reid-logo-161-300x125.gif
Bethany
2021-09-08 02:58:09
2021-09-08 02:59:05
Where to find me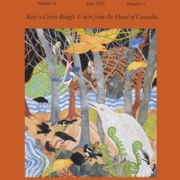 "Keep a green bough in your heart, the singing bird will come" is a Chinese proverb that serves as epigraph to this new collection from Empty Bowl Press, selected and edited by Holly J. Hughes. In a time of drastic examples of climate change, in the face of predictions of "pornographic" damage to come (Mark Lynas, Six Degrees: Our Future on a Hotter Planet), it gives me heart.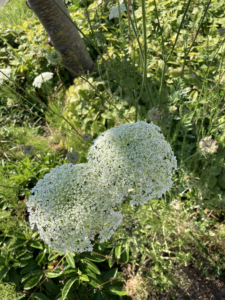 The collection features artwork from Jocelyn Curry, Susan Leopold Freeman, Anita Leigh Holliday, Sandra Jane Polzin and others, and poems and prose by a wealth of northwest writers including Judith Roche (1941-2019), and our new Washington State poet laureate Rena Priest. Woven throughout one sees the panicky facts of destruction: "A raft of debris as large as Africa" (Kathleen Flenniken, "Horse Latitudes"); "smoke / hangs like a veil, a scarf we can't breathe through" (Sharon Hashimoto, "Back Fires: September 2020"). It's time, these poems and prose pieces exhort us again and again: "We've stayed calm for too long," and "It's time to move quickly" (Iris Graville, "Not Just a Drill"; "Truth time" (Risa Denenberg, "Posthuman").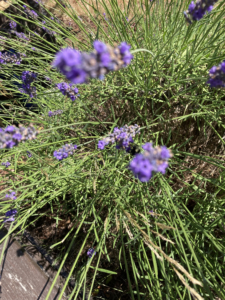 And all that's so worth saving calls to us from every page: "Surrounded by birdsong in many languages / walled in by forty-, fifty-, sixty-foot cedar, fir, hemlock / maples leafed out, honeysuckle beginning" (Ronda Piszk Broatch, "Apologizing for Paradise"); native blackberries "carry the taste of my childhood forest on a summer day" (Irene Keliher); "we pick up and play and write and sing and dance so that the Honduran emerald hummingbird the leatherback sea turtle the mountain gorilla the tiger salamander…" (Penina Taesali, "The Word of the Day").
"Perhaps every poem I write is the same poem; a poem to you, child of the next world, I hope you have some hope,: Sarah Marie Ortiz calls out to the future in "River." In her introduction Hughes says much the same:
"I hope our songs will spark your imagination, rekindle, and breathe life into these embers of hope. Together, may we envision a future that hears and honors all our voices."
https://www.bethanyareid.com/wp-content/uploads/2021/07/9781734187380.jpg
2250
1736
Bethany
https://www2.bethanyareid.com/wp-content/uploads/2021/02/reid-logo-161-300x125.gif
Bethany
2021-07-25 23:36:35
2021-07-27 19:03:07
The Madrona Project, v. II / no. 1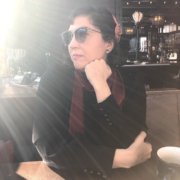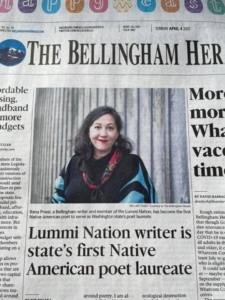 I couldn't have been more thrilled to hear that Rena Priest will be our new Washington State Poet Laureate. I took a workshop with Rena at Chuckanut Sandstone in 2018, and have been happily singing her praises ever since. She is an exceptional poet and—you have only to meet her once to know this—a generous and kind teacher.
Plus, I had just ordered her book Patriarchy Blues, from Village Books so that I could include her in my blog line-up this April. Serendipity all over the place!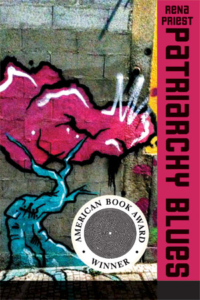 Patriarchy Blues was published by MoonPath Press in 2017, and received an American Book Award in 2018. Many (all?) of its 26 poems are about desire, specifically, the lopsided desire that comes of living in a patriarchy. Dedicated to "the subterranean homesick matriarchy," the book holds up a mirror to the world and the world puts on its lipstick and dances. Scissors desire the thread and the moon longs to turn her face away. "Can you climb into a person's / longing for you and float away?" asks one poem ("The Encyclopedia Britannica, Sunshine, a Mosquito"); another, "Is desire not acted upon a betrayal?" ("Creeping Out of Orbit").  And, always, this lushness, the body nourished by drums and bells and honey.
This is the final poem in the book.
Quiet Children

I notice how bees keep flying
to the emptiness in the tree
where their home used to be.
They don't disturb the children
playing in my driveway, oblivious
to the hovering above their ears.

I watch them from my steps
and listen to the green collision
of a million leaves, unsettled by a breeze.
A car staggers by, dragging along
a swarm of summer dust.
The children have all gone quiet.

They are in a circle, wiggling
and whispering about something
on the ground. I investigate, and see
a wrecked hive, the color of winter.
The older boys, in their cruelty
were at it last night with stones.

I shoo the children away, tell them,
"Go play." The doomed larvae strive
and vibrate. I cringe, but can't help
looking and looking, even days later,
at those starving conic bodies,
shimmering in their pale hexagon cells.

—Rena Priest
Follow this link to the Facebook page of Children of the Setting Sun to register for the Passing of the Laurels ceremony being held Wednesday, April 14, 2021:  https://www.facebook.com/ChildrenSSP/posts/2734324456692048.
https://www.bethanyareid.com/wp-content/uploads/2021/04/101947595_10157189593220857_434454927893.jpg
609
609
Bethany
https://www2.bethanyareid.com/wp-content/uploads/2021/02/reid-logo-161-300x125.gif
Bethany
2021-04-13 13:50:41
2021-04-13 13:50:41
Rena Priest