SO FAR SO GOOD: FINAL POEMS: 2014-2018, Ursula K. Le Guin. Copper Canyon Press, PO Box 271, Port Townsend, WA 98368, 2018, 89 pages, $23 hardback, https://www.coppercanyonpress.org
I was standing in front of the poetry shelf in Edmonds Bookshop, planning to pick up a book by Jericho Brown or Ada Limón, when this little treasure caught my eye. Hardback, brand new. Not too long after Le Guin's death in 2018.
How It Seems to Me

In the vast abyss before time, self
is not, and soul commingles
with mist, and rock, and light. In time,
soul brings the misty self to be.
Then slow time hardens self to stone
while ever lightening the soul,
till soul can loose its hold of self
and both are free and can return
to vastness and dissolve in light,
the long light after time.

—Ursula K. Le Guin
The poems here are elegiac, but also playful ("Judging beauty, which is keenest, / Eye or heart or mind or penis?"). They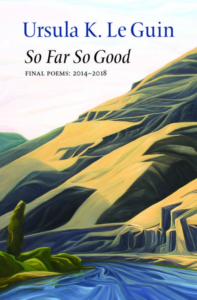 draw from Le Guin's childhood, and lean into science and natural history. A sequence of 12 poems are built on the final voyage of Lt. William Bligh—or, not "the subject," but "the metaphor" ("this little boat my body / its ragged sail my soul").
As a wannabe novelist, this poem especially appealed to me:
The Old Novelist's Lament

I miss the many that I was,
my lovers, my adventurers,
the women I went with to the Pole.
What was mine and what was theirs?
We were all rich. Now that I share
the cowardice of poverty,
I miss that courage of companionship.
I wish they might come back to me
and free me from this cell of self,
this stale sink of age and ills,
and take me on the ways they knew,
under the sky, across the hills.

—Ursula K. Le Guin
Did Le Guin know this would be her last book? Maybe my knowing was enough. But Le Guin does seem to be letting go, or taking hold of something else, something larger: "I am such a long way from my ancestors now / in my extreme old age that I feel more one of them / than their descendent" (from "Ancestry").
I bought the other books, too, by the way. But this one is such a lovely artifact. There's no end of praise—and awards—that I could list here. You can read more at https://www.coppercanyonpress.org/authors/ursula-k-le-guin/ and https://www.ursulakleguin.com/home/.
By the way—should you miss it on the home page, I am reading with four other Northwest poets on April 21, 6-7 p..m, on Zoom, hosted by Edmonds Bookshop and Rose Alley Press. Navigate to https://edmondsbookshop.indielite.org/event/annual-poetry-night-virtual-again-year to find out more.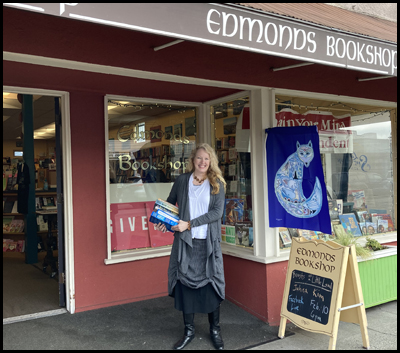 https://www.bethanyareid.com/wp-content/uploads/2022/04/leguin_ursula-k.jpg
1050
700
Bethany
https://www2.bethanyareid.com/wp-content/uploads/2021/02/reid-logo-161-300x125.gif
Bethany
2022-04-16 20:20:18
2022-04-16 20:20:18
Ursula K. Le Guin, So Far So Good