GARDEN TIME, W. S. Merwin. Copper Canyon Press, Post Office Box 271, Port Townsend, Washington, 98368, 2016, 78 pages, $16 paper, www.coppercanyongpress.org.
When I was in the MFA program at the University of Washington, I helped to bring W. S. Merwin to read as part of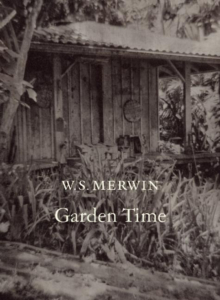 our Watermark Series, and I was one of a handful of students to be granted a one-on-one tutorial with him. Born the same year as my father, he wore a logger's hickory stripe shirt that day, and he had intense blue eyes, like my logger father. I could hardly speak, I was so in awe of him.
I stumbled across this book recently while browsing a small bookstore, and, surprised I hadn't seen it when it was first published, I grabbed it up. Garden Time, which is time outside of our usual everyday time, is a perfect title. Merwin wrote it—dictating the poems to his wife, Paula—when he was losing his eyesight. Among the 62 short, contemplative poems I could pick out any number of "favorites." It's hard not to choose "Pianist in the Dark," which opens with these lines: "The music is not in the keys / it has never been seen / the notes set out to find / each other / listening for their way." And these notes:
Rain at Daybreak

One at a time the drops find their own leaves
then others follow as the story spreads
they arrive unseen among the waking doves
who answer from the sleep of the valley
there is no other voice or other time

—W. S. Merwin
An Irish Times reviewer described the poems as "graceful, often stunning," and, "Focused brilliantly on what we see and how we are seen." I couldn't agree more.
Not Early or Late

Is it I who have come to this age
or is it the age that has come to me
which one has brought along all these
silent images on their shadowy river
appearing and going away as the river does
all without a word though they all know me
I can see that they always knew where to find me
bringing me what they know I will recognize
what they know only I will recognize
to show me what I could not have seen before
then leave me to make sense of my own questions
going away making no promises

—W. S. Merwin
Merwin was elected U. S. Poet Laureate in 2010, and was the recipient of two Pulitzers for Poetry as well as many other awards over his long life of writing. Here's the book page at Copper Canyon, and you can learn much more about his spiritual practices, and gardening practices in this profile at Poetry Foundation.
https://www.bethanyareid.com/wp-content/uploads/2023/04/merwinophoto_resize-b1595382935c207e089b79703e5a491409620159-scaled.jpg
1920
2560
Bethany
https://www2.bethanyareid.com/wp-content/uploads/2021/02/reid-logo-161-300x125.gif
Bethany
2023-04-28 19:30:13
2023-05-17 04:49:04
W. S. Merwin, 1927-2019