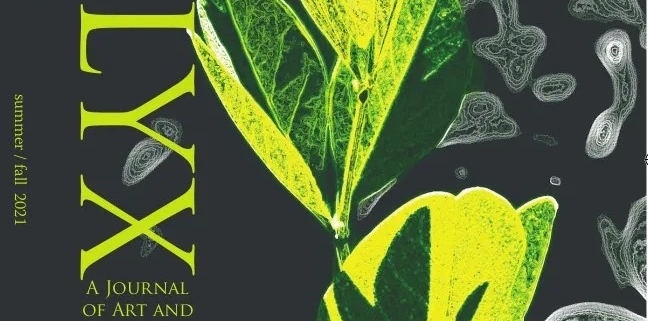 Cover art "Flamingo" by Leah Kosh
Featuring new work by thandiwe D. Watts-Jones, Kamal E. Kimball, Bethany Reid, Meredith Starr, and more
Order your copy or subscribe and save!
CALYX Journal Vol. 33:1 has arrived and is overflowing with beautiful and empowering new poetry, prose, reviews, and full-color art from a wide range of women and non-binary artists and writers. From Sophia Stid's award-winning poem "Prayer II" to Meredith Starr's funny and poignant take on quarantine with her series of art pieces including "In 2020 We Throw Things," this issue is challenging, relatable, reflective, and courageous.
Visit the CALYX website to order your copy and to read excerpts from the new issue, including a full short story, poem, and review. This issue, the sample short story is Anna Stacy's "Mending," a modern fantasy that weaves a spell of wit, camaraderie, acceptance, and self-love (and also actual spells!). The sample poem is Abigail Goodhart's "Barber Shop," full of such humor and braggadocio that it demands to be read by one and all. The sample review is Lois Rosen's take on Stealing Flowers from the Neighbors, a book of heartfelt poetry by Sherri Levine.
2022 is our forty-sixth year of providing a platform for new, emerging, and underrepresented voices. Thank you for your support of CALYX.
Pre-order your copy of Vol. 32:3 at calyxpress.org. You can also subscribe to receive a full volume (three issues) for only $23 USD.
https://www.bethanyareid.com/wp-content/uploads/2022/05/32-3_Cover.jpg.jpg
824
648
Bethany
https://www2.bethanyareid.com/wp-content/uploads/2021/02/reid-logo-161-300x125.gif
Bethany
2022-05-18 04:16:14
2022-05-18 04:16:14
New Issue of Calyx Journal