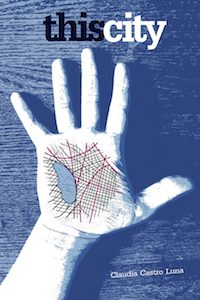 Among my busy calendar of Poetry Zoom events this week, I was able to attend Tracing the Maps, a poetry reading hosted by Seattle's Hugo House, featuring Carolyne Wright, Claudia Castro Luna, Cindy Williams Gutiérrez, and Raúl Sánchez. (It is not available as a recording, but it should be.)
I had heard three of the poets in person, over the years, but I am ashamed to admit that I had never heard our Washington Poet Laureate, Claudia Castro Luna, read her work. And I was, frankly, blown away. The woman has such presence and poise, and remarkable, memorable poems full of striking and eye-opening images.
I recently bought a copy of her 2016 chapbook from Floating Bridge Press: this city, a collection of 19 prose poems and an introduction, "Invitation." If you aren't yet familiar with her work, here's a sample to introduce you:
Aerial Equivalent

Each night evening lights, like birthday cake candles, draw out their
last breath. Curtains close over windows in hill homes and in seedy
motel rooms where families too live week to week. From thousands of
hushed, slumbering bodies the unspoken loosens up, levitates. Wishes,
anxieties, and aversions reach the heavens. They fly over the east, over
the west, by way of the north, circling hills and downtown. A formless
psychic soup occupies the aerial equivalent of the city below. Slowly an
invisible city coalesces, imperfect but peaceful, unlike its terrestrial
twin. By daybreak the buoyant city crumbles. Its detritus unadorned
and lodged in unsuspecting throats.

–Claudia Castro-Luna, from this city (Floating Bridge Press, 2016)
You can read more about Claudia at her website, https://www.castroluna.com/ (see link above) or at poets.org.
https://www.bethanyareid.com/wp-content/uploads/2020/07/ThisCity_Cover_Cropped-200x300.jpg
300
200
Bethany
https://www2.bethanyareid.com/wp-content/uploads/2021/02/reid-logo-161-300x125.gif
Bethany
2020-07-18 15:46:51
2023-04-08 18:21:39
Claudia Castro Luna