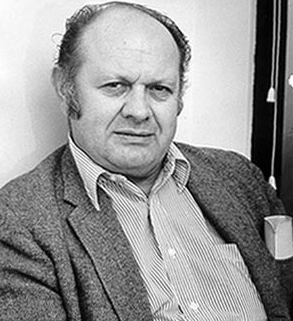 DUWAMISH HEAD, Richard Hugo. Copperhead, Box 271, Port Townsend, Washington 98368, 1976, 24 pages, out of print.
I have an extraordinarily busy day lined up, and beginning early, so I'm sharing with you a chapbook of poems by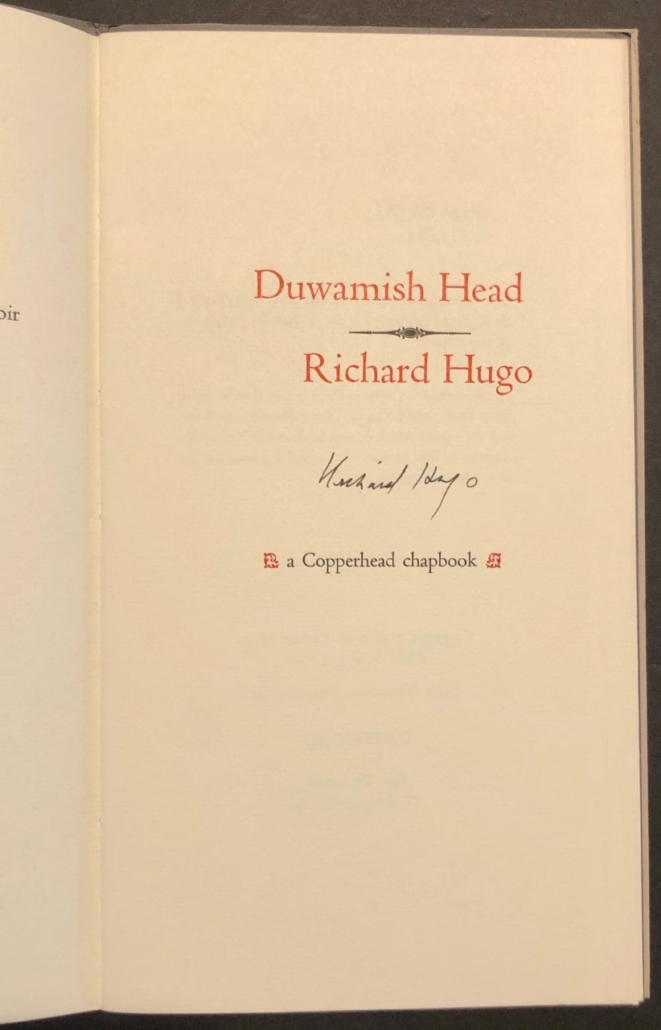 Richard Hugo, recently passed along to me by a friend who was letting go of some books. Copperhead no longer exists, and I couldn't find any mention of it when I searched, but I suspect it was a precursor of Copper Canyon, as this chapbook was produced by Sam Hamill and Tree Swenson.
I can't imagine that any northwest poet doesn't know Richard Hugo's work. Perhaps his collected poems, Making Certain It Goes On (Norton, 1984), is on your shelf, as it is on mine. But, just in case, here's one poem:
Back of Gino's Place

Most neglect this road, the concrete torn
and hunched, purple boxcars
roasting in the wind or in the sun,
both direct as brass. Only smoke
from two shacks and a scratchy radio
prevent abandonment from falling
on this lateral bare area like fog.

In the winter what clean nightmare
brought a sketcher here
to risk his hands, the loss of line
in this much light? Not the poverty
alone, but other ways of being,
using basic heat: wood brought in
by the same sea that is blaring
wealthy ships to a freshly painted port.

He was right to come. Light
in this place cannot kill the lines
of the charred boat, the rusted net,
the log-boom beached and slanted
waiting for a tide. Not when a need to die
here, just to be an unobtrusive ghost,
takes from mud and wood the color of the day.

—Richard Hugo
Reading these poems takes me back to my early MFA workshops—this would be 1988 or -89—when we were assigned Hugo's 31 Letters and 13 Dreams (1971), reading aloud to hear the strongly iambic beats. Many of the titles here ("Duwamish," "Duwamish No. 2," "West Marginal Way," "Duwamish Head") tip us off to Hugo's trademark evocation of place. Not just place names, but mudhens, cormorants,  teal, grebes, and salmon.
Hugo's music is irregular. Sometimes he relies on the iambic 10-syllable line. Then he breaks the pattern and you're not sure. You can trace the sounds by reading aloud the end words of lines, in the first stanza of "Duwamish," for instance: river's / knocks / crud / out-tide / sea / nails /ovens / owns / spines / bribes / coins. Almost all concrete nouns.  The ending of knocks chimes with crud, crud chimes with out-tide. Subtly.
His biography at Poetry Foundation includes this insightful paragraph:
In his poems Hugo reflected as much upon the internal region of the individual as on the external region of the natural world, and he considered these two deeply interconnected. According to Frederick Garber, "the landscape where things happen to Hugo goes as far into his mind as it goes outside of it"; Hugo's poetry "is about the meeting of these landscapes." The role of the past as a shaping force on the individual predominates. While "failed towns, isolated people and communities imprisoned in walls of boredom and rage," as Michael Allen notes, are often the subjects of Hugo's poems, there is also a pervading sense of optimism, of an uplifting hope, as Hugo puts it, "that humanity will always survive civilization."
I was amused, looking up the book on-line, to find signed copies for $3 (the original price) , and for $150. My copy is pretty beat-up, and not signed. I think I'll keep it.
Visit Poetry Foundation, linked above, or https://poets.org/poet/richard-hugo to learn more. I found the photograph of Hugo here.
I also found a couple videos of Hugo reading (listen for the cadence), including this short feature (5 min) from PBS. (However, when he's talking, toward the end, the subtitle says "Ricky," when he says "Roethke," which is really annoying.)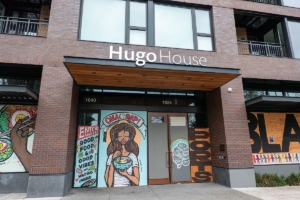 https://www.bethanyareid.com/wp-content/uploads/2023/04/richard_hugo.jpg
425
293
Bethany
https://www2.bethanyareid.com/wp-content/uploads/2021/02/reid-logo-161-300x125.gif
Bethany
2023-04-17 14:49:30
2023-04-17 14:55:13
Richard Hugo, 1923-1982