BLESS THE DAUGHTER RAISED BY A VOICE IN HER HEAD, Warsan Shire. Random House, New York, 2022, 93 pages, $17.00 paper, https://www.randomhousebooks.com.
"No one leaves home unless one's home is the mouth of a shark" writes Warsaw Shire in her powerful and explosive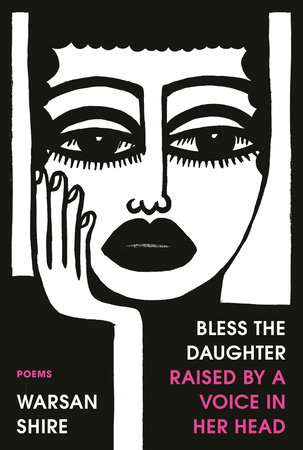 poem, "Home." This line sounded so familiar to me that I thought Shire must be quoting someone. But, no. In fact, people are quoting poet Warsan Shire, and the line has become a rallying cry for refugees, immigrants, and human rights advocates. Born in Kenya to Somali parents, Shire has lived in Britain and the U. S. The poems are often shocking, always authentic.
Consider the fourth stanza of "Home":
No one would choose to crawl under fences, beaten until your shadow leaves, raped, forced off the boat because you are darker, drowned, sold, starved, shot at the border like a sick animal, pitied. No one would choose to make a refugee camp home for a year or two or ten, stripped and searched, finding prison everywhere. And if you were to survive, greeted on the other side—go home Blacks, dirty refugees, sucking our country dry of milk, dark with their hands out, smell strange, savage, look what they've done to their own countries, what will they do to ours? 
Roxane Gay wrote of this book: "Warsan Shire electrifies. The beautifully crafted poems in this collection are fiercely tender gifts." And in every review, the praise echoes and continues: "fierce and compelling," "exquisite, memorable," "full of ferocious love and truth." And music. Poet Terrance Hayes says of it:
"It is not overstatement to say Shire writes the way that Nina Simone sang. All the brilliance of her lean, monumental Teaching My Mother How to Give Birth is magnified in this remarkable new book."
This was another book whose cover (and its provocative title) grabbed me as I browsed bookstore shelves for something else. Despite our cultural differences, it was a book I eagerly read straight through. A book of mothers and daughters, wombs and vaginas and silenced mouths: "Infants swaddled in blood, the bees / bring messages of postpartum grief. / Your girlhood an incubation for madness" (Hooyo [mother] Full of Grace"). And healing, too, or if not healing, holding out the promise of a devouring wholeness:
Under your feet, the trapdoor to heaven
opens its mouth, its teeth
grazing your toes.
Fathers and brothers infiltrate (read the long poem "Backwards" to see for yourself), as in this poem, which could be ripped from the headlines in any U. S. city. A note adds, "In Islam, Azrael is the angel of death who separates souls from their bodies," which increases the menace.
Bless Our CCTV Star

Ma'am / is that your brother /
being breastfed / by hooded
goons / are those your brother's
teeth / caught on speed cameras /
eroding in real time / is that your
brother's face / marred by pixelation /
you say you're able to recognize
him / from any distance / and from this distance
you say the figures appeared to be /
swaying / under the moon's cordial light? /
And you say one of those dark
figures / may have been Azrael /
with his scythe tucked / under his
chin / like a violin / and the notes
he played / you say you already
heard in a dream?

—Warsan Shire
Shire now lives in Los Angeles with her husband and children. Read more about her at Poetry Foundation, here,
You can hear Shire read "Home" here, https://www.youtube.com/watch?v=nI9D92Xiygo, and I recommend that you do.
https://www.bethanyareid.com/wp-content/uploads/2023/04/39bb9b11c3b087695d83c97ae536a2ba.jpeg
1293
1940
Bethany
https://www2.bethanyareid.com/wp-content/uploads/2021/02/reid-logo-161-300x125.gif
Bethany
2023-04-16 19:38:59
2023-04-20 21:23:27
Warsan Shire, Bless the Daughter Raised by a Voice in Her Head