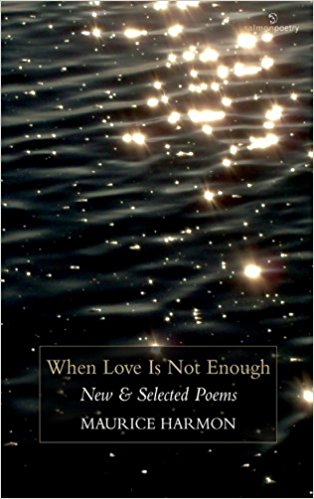 This morning I reread the poems in Love Is Not Enough by Irish academic and poet Maurice Harmon (given name pronounced "Morris"). The book was published in 2010 on the occasion of Harmon's 80th birthday and includes selections from his earlier books, including The Last Regatta, and The Mischievous Boy. On my recent visit to Ireland I was privileged to meet Professor Harmon and his wife, Maura, and have tea with them in their Dublin home. Hearing him read (in his soft Irish brogue) a poem about his mother was one of the highlights of the trip. (You can hear him, yourself, by clicking on this link.)
The poems run the gamut from translations of medieval Irish lyrics, to long narratives about priests and randy poets and boys sent away to school. Many of the poems are persona poems, almost stories rather than poems. And then, a poem like "The Long Haul." Although a horse appears to be speaking, it could just as easily be biographical, and for that matter, I find it nicely describes my own writing life. Well, who knows?

The Long Haul 
I'm here for the long haul, an old dray-horse
has done his rounds. They taught me to walk, taught
me to halt, snaffled spirit, bitted soul.
No more. I've taken a shine to unmarked ways,
forgotten paths, unapproved roads, lanes
I knew before the halter age, rampant
From lack of use, one went to the national school.
I roam about, see life in a frayed branch,
kick up heels, drink from the waters of reverie.
It looks like aimlessness but that's the key.
In time the dunce in the corner misses nothing.
I'm sometimes asked, 'how do you put in time?'
I shy away, refuse fences, escape
the stop-watch mind. I've set aside bridle days.
From where I lie it's a clip-clop to eternity.
Click on this link, to hear him read his poem, "The Stunning Place."
https://www.bethanyareid.com/wp-content/uploads/2018/04/maurice-harmon.jpg
499
314
Bethany
https://www2.bethanyareid.com/wp-content/uploads/2021/02/reid-logo-161-300x125.gif
Bethany
2018-04-02 17:09:24
2018-04-07 04:31:51
Maurice Harmon's When Love Is Not Enough: New & Selected Poems