FRANK: SONNETS, Diane Seuss. Graywolf Press, 250 Third Avenue North, Suite 600, Minneapolis, MN 55401, 2021, 137 pages, $16.00 paper, https://www.graywolfpress.org.
Sometimes I drag my husband to art-house-y films and when someone asks, "Was it good? Should I go see it?" I hesitate. Yes, definitely good. Also, scarred me for life.
That's how I feel about this amazing, abrasive, challenging, brilliant book of poems by Diane Seuss. It is like nothing I've ever read. Your mileage may vary.
From the back cover: "Every poem in frank: sonnets is an example of the incomparable Seussian Sonnet, where elegy and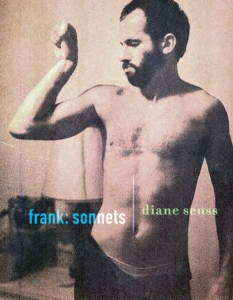 narrative test the boundaries of the conventional form" (Terrance Hayes). "…an ambitious, searing, and capacious life story. The poems themselves use an ecstatic syntax to unite Seuss's lyric leaps from one wretched sweetness to another….narratives of poverty, death, parenthood, addiction, AIDS, and the 'dangerous business' of literature are irreducible" (Traci Brimhall). In short, it was a little like reading a memoir—bizarre, fragmented, mesmerizing. When I first purchased this book and read a poem here and there, I was missing the point.
I'm trying to pluck out a few sentences to illustrate (but some of these untitled poems, always 14-lines but with unbridled-lengthened-lines, are all one sentence). Maybe this one about her son: "I'd authored him in my bones, he was my allegory, analogy, corollary, mirror, I forged / his suffering, his nail, his needle, his thrill" (p. 66). And, often, provocative statements that I don't quite know what to do with: "All lives have their tropes over which we have minimal control" (p. 83); "I fell in love with death" (p. 80). Or in a poem beginning, "Thirty-nine years ago is nothing, nothing," this ending:
I was nothing, I knew nothing then of nothing, its shacks shawled

with moss, its bitter curatives and ancient hags redressing my narratives. (p. 60)
Traci Brimhall sums it up brilliantly: "It's a book to inhabit, to think alongside, to rage and laugh with, to behold the ways beauty is both a weapon and a relief."
Here's one sonnet, and I'd say "to let you judge for yourself," except you can't really judge this book on one poem. "Mikel" is a recurring character, and the subject of the cover photo.
I have slept in many places, for years on mattresses that entered

my life via nothing but luck, as a child on wet sheets, I could not

contain myself, as a teen on a bed where my father ate his last

pomegranate, among crickets and chicken bones in ditches, in the bare

grass on the lavish grounds of a crumbling castle, in a flapping German

circus tent, in a lean-to, my head on the belly of a sick calf, in a terrible

darkness where a shrew tried to stay afloat in a bucket of well water,

in a blue belfry, on a pink couch being eaten from the inside by field mice,

on bare floorboards by TV light with Mikel on Locust Place, on an amber

throne of cockroach casings, on a carpet of needles from a cemetery pine,

in a clubhouse circled by crabapple trees with high school boys who are

now members of a megachurch, in a hotel bathtub in St. Augustine after

a sip from the Fountain of Youth, cold on a cliff's edge, passed out cold

on train tracks, in a hospital bed holding my lamb like an army of lilacs.

—Diane Seuss (p. 48)
You can read more about Diane Seuss at Poetry Foundation. This National Book Critics Circle review (which calls it "a memoir in sonnets") will also be helpful.
On May 15, Seuss is reading her work alongside poet Dorianne Laux — notice that it's Eastern Standard Time.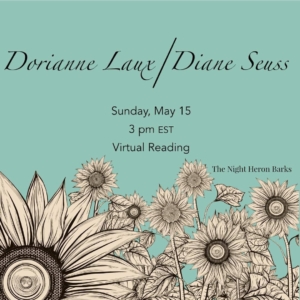 https://www.bethanyareid.com/wp-content/uploads/2022/04/920453b7b8d31de53511e24bc9cd99f1.jpeg
1293
1940
Bethany
https://www2.bethanyareid.com/wp-content/uploads/2021/02/reid-logo-161-300x125.gif
Bethany
2022-04-21 20:21:34
2022-04-21 20:23:11
Diane Seuss: Frank