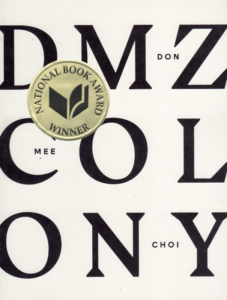 Don Mee Choi is a citizen of our troubled world. She was born in Seoul, South Korea, lived in Hong Kong, and now lives in the United States, in Seattle, Washington. Reading her newest book, DMZ Colony, challenged me to throw out my lens on the crises in global politics, particularly immigration, and try on a new perspective. The Academy of American Poets site addresses her multi-form, surprising art by quoting Craig Santos Perez:  "Choi translates feminist politics into an experimental poetry that demilitarizes, deconstructs, and decolonizes any master narrative." It is hard for me to say more.
I am reading DMZ Colony for a Hugo House class this spring. All by itself, it is an education in global politics. It was published by WAVE books (2020), and is the 2020 winner of the National Book Award for poetry. The NBA judges hailed DMZ Colony as a "tour de force" of personal reckoning, and also wrote of this moving interweaving of poetic forms and translation:
Don Mee Choi's urgent DMZ Colony captures the migratory latticework of those transformed by war and colonization. Homelands present and past share one sky where birds fly, but "during the Korean War cranes had no place to land." Devastating and vigilant, this bricolage of survivor accounts, drawings, photographs, and hand-written texts unearth the truth between fact and the critical imagination. We are all "victims of History," so Choi compels us to witness, and to resist.
"Migratory latticework" and "bricolage" do much to help us imagine this book. And do explore the Poetry Foundation and other sites. But much of DMZ Colony is in images, and you really have to hold it in your hands to experience it.
Here's an excerpt from the introduction to one section:
One starless night, I was stranded….I decided to translate the stories of eight girls who survived the Sancheong-Hamyang massacre, which took place in Gyeongsangnam-do, a southern province of South Korea, in 1951. My decision to translate the girls' stories wasn't entirely mine alone. It can take billions of years for light to reach us through the galaxies, which is to say, History is ever arriving. So it's most likely that the decision, seemingly all mine, was already made years ago by someone else, which is to say, language — that is to say, — translation — always arises from collective consciousness.
And here's one poem (printed in white lettering on a black page):
We too were born under the bridge. Every night, we listened to the whispers of the angels bathing in the river. They too cried and sang, Sky, sky, sky. Our lullaby. They didn't blame our nations. Migrating from pole to pole they watched our falling stars, our failing planet. They too were hungry. They too were homesick. We the fatherless watched the angels depart. Our farewell. In reality, we were all motherless.
https://www.bethanyareid.com/wp-content/uploads/2021/04/27ef868543abf9c4e16439c1aeb8f0bd.png
314
311
Bethany
https://www2.bethanyareid.com/wp-content/uploads/2021/02/reid-logo-161-300x125.gif
Bethany
2021-04-08 14:36:11
2021-04-08 14:39:01
Don Mee Choi