INSTRUCTIONS FOR MY MOTHER'S FUNERAL, Laura Read. University of Pittsburgh Press, Pittsburgh Pa 15260, 2012, 104 pages, $17 paper, https://upittpress.org.
The intimacy of this book of poems is searing. A father dies, a mother remarries. A child is uprooted. (And so much more.)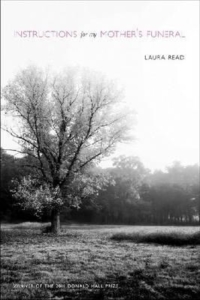 Then life goes on. A life in three parts. Swoon-worthy writing here, and poems I wish I'd written.
Instructions for My Mother's Funeral won the coveted AWP Donald Hall Prize in Poetry, and there is so much I could say about it. And should. But I am battling a headache today, so I'm sending you to Read's page at U Pitt Press to read the back cover praise for yourself.
Here is one of many splendid examples, the title poem:
Instructions for My Mother's Funeral

She doesn't want me to go back
to Long Island—I won't find
Carle Place High School
or the house with the four rooms
where her cousin Billy used to bang
on the door until her mother
let him in, slid a fat chop on a dinner plate
and kept him
safe from the house down the block,
his father in the garage.
Carle Place's mascot was a frog
and my mother was the captain
of the Green Team the year they won
Sports Night and her father, the school
custodian who lived in the pipes
and the closet of brooms,
came running over the polished planks
of the gymnasium floor and picked her up.
Outside, the real frogs sang their deep
songs as if they knew about my mother
and how she was leaving.
If I go back, I won't find her—
they took the town down
like the Heath Library
across the street from St. Aloysius
where I read the World Book Encyclopedia
for my ornithology report—
I had to tell the story of 30 birds,
where they lived, what they ate,
how you can spot them up in the branches
and tell them one from the other.
I had to color each feather on their breasts.
Their hearts were beating
underneath the paper.
My mother said that's where
they keep their songs but don't press
your ear there to listen.
Don't watch to see if they'll lift
off the page—they want to open
their thin wings you made for them
with their pencils
and see how they do in the wind.

—Laura Read
Visit Pictures of Poets, too. At Read's personal website I learned that she is the Poet Laureate of Spokane, and that she has a new(er) book, and much more.
https://www.bethanyareid.com/wp-content/uploads/2022/04/farts1-1-c0add04614cb9153.jpg
1375
1000
Bethany
https://www2.bethanyareid.com/wp-content/uploads/2021/02/reid-logo-161-300x125.gif
Bethany
2022-04-27 23:17:22
2022-04-27 23:17:22
Laura Read, Instructions for My Mother's Funeral