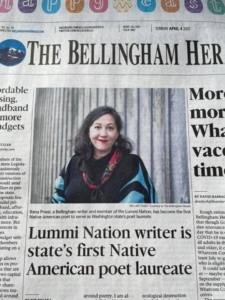 I couldn't have been more thrilled to hear that Rena Priest will be our new Washington State Poet Laureate. I took a workshop with Rena at Chuckanut Sandstone in 2018, and have been happily singing her praises ever since. She is an exceptional poet and—you have only to meet her once to know this—a generous and kind teacher.
Plus, I had just ordered her book Patriarchy Blues, from Village Books so that I could include her in my blog line-up this April. Serendipity all over the place!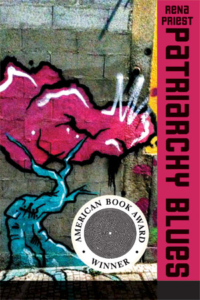 Patriarchy Blues was published by MoonPath Press in 2017, and received an American Book Award in 2018. Many (all?) of its 26 poems are about desire, specifically, the lopsided desire that comes of living in a patriarchy. Dedicated to "the subterranean homesick matriarchy," the book holds up a mirror to the world and the world puts on its lipstick and dances. Scissors desire the thread and the moon longs to turn her face away. "Can you climb into a person's / longing for you and float away?" asks one poem ("The Encyclopedia Britannica, Sunshine, a Mosquito"); another, "Is desire not acted upon a betrayal?" ("Creeping Out of Orbit").  And, always, this lushness, the body nourished by drums and bells and honey.
This is the final poem in the book.
Quiet Children

I notice how bees keep flying
to the emptiness in the tree
where their home used to be.
They don't disturb the children
playing in my driveway, oblivious
to the hovering above their ears.

I watch them from my steps
and listen to the green collision
of a million leaves, unsettled by a breeze.
A car staggers by, dragging along
a swarm of summer dust.
The children have all gone quiet.

They are in a circle, wiggling
and whispering about something
on the ground. I investigate, and see
a wrecked hive, the color of winter.
The older boys, in their cruelty
were at it last night with stones.

I shoo the children away, tell them,
"Go play." The doomed larvae strive
and vibrate. I cringe, but can't help
looking and looking, even days later,
at those starving conic bodies,
shimmering in their pale hexagon cells.

—Rena Priest
Follow this link to the Facebook page of Children of the Setting Sun to register for the Passing of the Laurels ceremony being held Wednesday, April 14, 2021:  https://www.facebook.com/ChildrenSSP/posts/2734324456692048.
https://www.bethanyareid.com/wp-content/uploads/2021/04/101947595_10157189593220857_434454927893.jpg
609
609
Bethany
https://www2.bethanyareid.com/wp-content/uploads/2021/02/reid-logo-161-300x125.gif
Bethany
2021-04-13 13:50:41
2021-04-13 13:50:41
Rena Priest