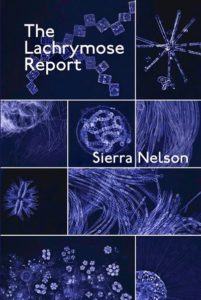 THE LACHRYMOSE REPORT, Sierra Nelson. Poetry Northwest Editions, 2000 Tower St., Everett, WA 98201, 2018, $29, https://www.poetrynw.org/.
Here's another northwest native, but with an entirely different aesthetic than yesterday's poet. Elizabeth Bradfield describes the sensibility behind The Lachrymose Report as a "bright, bird-mind" that "sees the world and its questions in the best kind of strange light." Reading it again today, I felt I was hanging out with a mind at play in the fields–and deep in the mucky ponds–of language itself.
Here's a sample:
Pilgrimage

Pilgrim–
Awake to bells with no melody or reason.
You were given this tongue and body
and all day long your life rings you,
rings you for what you are worth,
but you can't hear it amidst the pound
of traffic, heat, and senseless shouting.

Sit down by the fountain
outside the closed church
and listen to water
diffusing into light.

All pilgrims' feet are painted black.
It is good if you've lost something–
your map, your luggage, your companions,
your favorite ring, your last coin,
your metal heart, your language.

Go to the marketplace.
Touch everything, pilgrim.
Let every cloth remind you
that you have hands.

Let your eyes go blind
on their clever toys and cheap purses.
Pay the toll to the King of Fleas,
his plastic cane rapping
on the world's refuse.

In the heap, find a book of poems
written as if in your heart's own tongue.
Did you know you were hungry as this, pilgrim,

here by the clamor of handmade wind chimes
and songbirds for a penny? Happy
as you are, despite everything,
cracking open a seed.
https://www.bethanyareid.com/wp-content/uploads/2018/11/feeling-blue-blog-pic.jpg
1024
1536
Bethany
https://www2.bethanyareid.com/wp-content/uploads/2021/02/reid-logo-161-300x125.gif
Bethany
2020-04-23 02:23:52
2020-04-23 02:23:52
Sierra Nelson