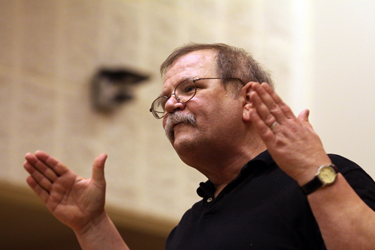 This is a book I immediately wanted to share with my friend Paul, who hails from my neck of the woods. Logging, fishing, pouring cement, planing wood, working on boats — Samuel Green covers all of them. Shades of my childhood.
And this poem: which simply has to have been written about one or another of my uncles.
After the Argument
He spent the afternoon pulling nails
from salvaged boards. Each yank
of the crowbar brought a scream
from the wood. Then he hammered them
on a chunk of railroad steel,
threw them into a coffee can
on the workbench, knowing
they were straight, merely by the feel.
Samuel Green, All That Might Be Done (Carnegie Mellon University Press, 2014)
I would love to share two or three more poems, but let's take a moment just to appreciate the complexity on the other side of the simplicity here. The way the rhymes (steel and feel being the only obvious ones) add up (the slant rhymes, too, nails with the other l words; yank with can; scream with them). The emotion of the poem hammered out and emphasized at the self-same time.
https://www.bethanyareid.com/wp-content/uploads/2018/04/sam-green.jpg
499
300
Bethany
https://www2.bethanyareid.com/wp-content/uploads/2021/02/reid-logo-161-300x125.gif
Bethany
2018-04-19 05:16:40
2018-04-19 05:16:40
Samuel Green's All That Might Be Done