SUBLIME, SUBLIMINAL, Rena Priest, Floating Bridge Press, 909 NE 43rd Street, #205, Seattle, Washington, 98105, 2018, 48 pages, $10, paper, www.floatingbridgepress.org.
This August I am once again not doing the #SealeyChallenge. I gave some thought to it—reading a poetry book a day for the month of August, then simply posting a picture to Instagram—but…I get so much out of my April poetry-book marathon that I can't imagine not sharing a longer reflection. The April project always ends up trashing any other plans for the month, and it always ends up being worth it.
I think what I'm trying to say here is that if you feel led to read a poetry book a day, and reflect on what you find, I HIGHLY encourage you to do so.
Today, because it was left over from my April book stack, I decided to read Rena Priest's Sublime, Subliminal, which was a finalist for the 2018 Floating Bridge Chapbook competition.
I always love Rena's poems. She was our Washington Poet Laureate for two years, 2021-2023, and, among so much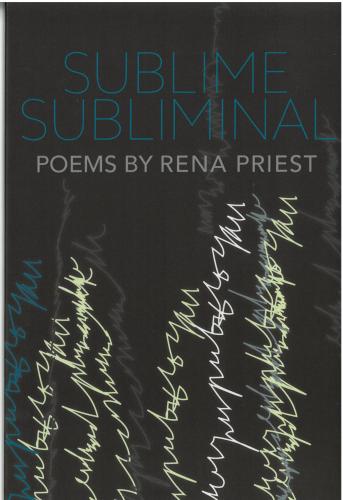 else as part of her heart-filled service to the poetry community, edited the brilliant I Sing the Salmon Home.
The fifteen poems in Sublime, Subliminal are not straight-forward, easily understood poems. They challenged me. When I let myself drop fully into the project, they also delighted me. Opening lines such as, "Your kiss is backlit pixilation" ("Canadian Tuxedo"); "The bookshelf is a psychic vortex" ("The Final Word"); or this sentence, "In the darkness of the cupboard, / the inner life of the water glass / is not empty" ("Inner Life of the Water Glass") pushed me to see and think differently.
When I reached the acknowledgments page I was tickled—and not altogether surprised—to discover that the poems were inspired by Jim Simmerman's "20 Little Poetry Projects." Years ago, when my children were young and I was a new not-yet-tenured college teacher, I came across this exercise in The Practice of Poetry (edited by Robin Behn and Chase Twichell), and it worked so well for me that I stopped using it after a few poems. It felt like cheating! Rena Priest, so much smarter, put together a whole book.
The poems are longish, but you have to see at least one. I chose this poem because it's sexy and unexpected, and has an opening conceit that blows my mind. The poems, the book over all, has an opaqueness that makes me think of my professor who used to say, "It's a poem! Stop making sense!"
Indistinct Features

Your face is a movie screen.
There are two matinees
and three features every day.
Your smile incites the Theremin
to which I react with acumen.
You were one thing. Now another;
tasted like sugar, now like butter.
Mr. Tom Savini, Sultan of Splatter,
Godfather of Gore,
the orchestra can see you
around that corner, behind that door,
cooking up some violence.
The violins are going crazy
and I will react with the antonym
of acumen when you come to slay me;
But the angels will sing a chromatic hymn
when your demons come for you,
to do you like Mercutio,
find you a grave man tomorrow.
"YOLO," the kids will say,
"There's something about an open grave
that makes me amorous—libidinous—
downright horndog AF."
Gotta replace a life with a life.
Gotta get in the pudding club.
I'll give you the sweet pearl
of my sympathy, swathed
in the nacre of my spiritual oyster,
mounted in a shining ring.
Poke a hole in the curtain between
the living and the dead. Now
it's a peep show for your soul.
If you peek, you'll see the day
where we all go back to analog.
Colloids and emulsions on reels
instead of coitus and emotions in files.
Tomaten auf den Augen Haben.
Images flicker
24 times per second across your face.
I can't keep hold of your features.
There's a feather
where your mouth is supposed to be.
It flutters when you say,
"Oh come on baby—
don't look at me that way?"

—Rena Priest
If you are interested in trying out Simmerman's Twenty Little Poetry Projects, you can find it on-line. Or you could buy a copy of The Practice of Poetry, which is packed with detailed poetry prompts. Many many used copies available.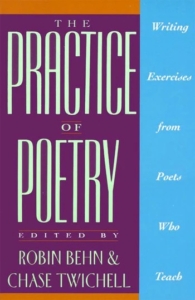 https://www.bethanyareid.com/wp-content/uploads/2023/08/RenaPriest.jpeg
1083
1000
Bethany
https://www2.bethanyareid.com/wp-content/uploads/2021/02/reid-logo-161-300x125.gif
Bethany
2023-08-06 15:52:08
2023-08-06 15:52:08
Rena Priest, "Sublime, Subliminal"