MOONLESS GRIEF, Sally Albiso. MoonPath Press, PO Box 445, Tillamook, OR 97141, 2018, 74 pages $15 paper,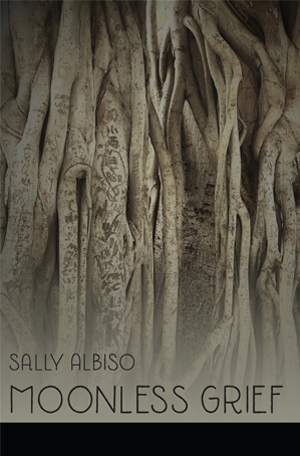 http://moonpathpress.com.
It was my pleasure to read Sally Albiso's Moonless Grief this morning. A lovely book that—perhaps because of Albiso's untimely death in 2019—feels like a collection of elegies, or love songs for life.
The poems flutter with wings, cormorants, eagles, sometimes wings of angels. Wings are observed, and metaphorical. "Kingfishers kite with a nervous energy like yours," a thrush slams into a window, and we get these evocative lines: "I cradle the bird the way some people pray / but take only silence into my hands" ("Compass").
And this:
A hibernating bird,
its flock called an addiction
as if flight becomes sleep,
becomes craving
only a season of torpor relieves,
and loss just a word
like winter.

(from "Storm")
Here's a short poem, that will maybe demonstrate why I'm swooning:
Nest

A conical shape concealed
among loops of rope
hanging from a cedar bough.
A shelter of lichen and moss
lined with feathers so soft
I want to peck my way through a shell
and curl inside such refuge.
This way station between hatching
and flight more forgiving
than immediate delivery,
a secondary womb that secludes
until air gives life. How it would feel
to wake to that mercy and suspend
among cushioned walls
even after the last umbilical scab
falls away. To linger there
until able to take in light
without squinting,
breathe without crying first.

—Sally Albiso
You can read Albiso's poem "Wildfire" at Verse Daily, and "When You Visit," at MoonPath Press, plus Albiso's brief biography and legacy.
https://www.bethanyareid.com/wp-content/uploads/2023/04/Sally-Albiso.png
1024
1600
Bethany
https://www2.bethanyareid.com/wp-content/uploads/2021/02/reid-logo-161-300x125.gif
Bethany
2023-04-22 18:21:02
2023-04-22 18:21:02
Sally Albiso, Moonless Grief