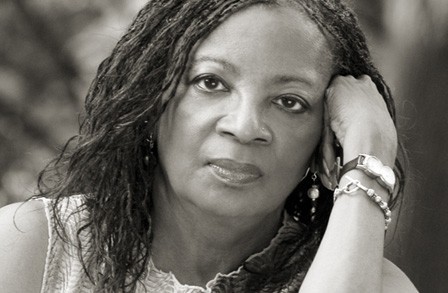 BLOOD MEMORY, Colleen J. McElroy. University of Pittsburgh Press, Pittsburgh, Pa., 15260, 2016, 112 pages, $15.95 paper, www.upress.pitt.edu.
I met Professor Colleen J. McElroy when I was a newly minted MFA student at the University of Washington in 1985.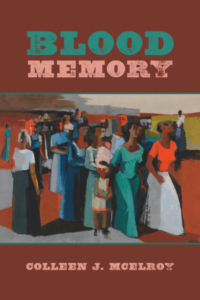 If I had to characterize her in one word, it would be "storyteller." Yes, she taught us (a lot) about poetry and the making of poems, but part of the glamor of her classes, for me, was when she would lean back in her chair, half-close her eyes, and begin telling a story. She put all of us in a trance.
The stories were about her travels—which were many; about poets she'd met and read with all over the world; about her St. Louis childhood; about her family, particularly the women who taught her how to tell stories. Reading Blood Memory transports me back to her classrooms, and to her office where, as my faculty advisor, she met with me (and regaled me) weekly. I read these poems, and I hear her voice, its cadence, its rich timbre, her laughter. And, sometimes, I can see her, fixing me with a look that she must have learned at the feet of the indomitable women who peopled her childhood.
from "Paint Me Visible":
in a family of beautiful intelligent and profoundly
crazy women     one danced in the dark
to soothe her nerves      another wove shawls
from her husband's hair and discarded both
when the work was done      another read palms
tea leaves   cards   anything that left an imprint
on her inner eye    neighbors said she saw
things nobody else could describe
From hopscotch rhymes to blues, through birth, abortion, estrangement, exile, and return no one can describe this world the way McElroy can. Here is the book's opening poem:
The Family Album

call it blood memory for I am the only
one left to identify by name the ancestors

I am the only one left of the women
who sat around grandmother's oak table
and wove the stories of who and where
who knows the half of it and when

I am the answer to the questions
my mother's sisters swallowed:
What will you do with that child?

I know now that I am here to give
voice to tongues never silent
and doors closing too quickly

I am of the age where death comes
easily and visits often in those little
obit notes of passing reminding us

how we've neglected dear ones
now lived again through fading pictures
stuck to crumbling pages

I buy tickets to places I may never visit
spend hours trying to remember
if the image stuck in my head has origins

in a dream or some foggy night
slipping past almost unnoticed

I am the last female of a family
of women who wove the fabric
of stories into doilies and slip covers

I am the child with sparrow legs
sock heels stuck halfway in her shoes
drinking the last of the metaphors left
in teacups on the table unattended

—Colleen J. McElroy
From the back cover, these words of description and praise:
"She is the last woman of her line. Her new poems end and begin with A. Phillip Randolph and Pullman Porters, her enjambments are Ma Rainey and Lawdy Miz Cloudy, her leading men are the last Black men on the planet named Isom, her major planets are porches and backroads. She is still the master storyteller to the 60 million of the Passage. When I didn't know how to be a poet, I first read Colleen McElroy to slowly walk the path to how." —Nikki Finney
Exactly so.
To read more about Colleen J. McElroy, find her at The Poetry Foundation, Historylink.org, and I recommend this interview with Bill Kenower of author magazine.org. Here she talks about where she learned to tell stories. And (love this) she talks about poetry as not just any relationship, "but an affair." Maybe that helps explain the clotted love that breaks to the surface in poem after poem in this book.
I first read Blood Memory when it was released in 2016. It was a delight to read it this morning and enter the trance again.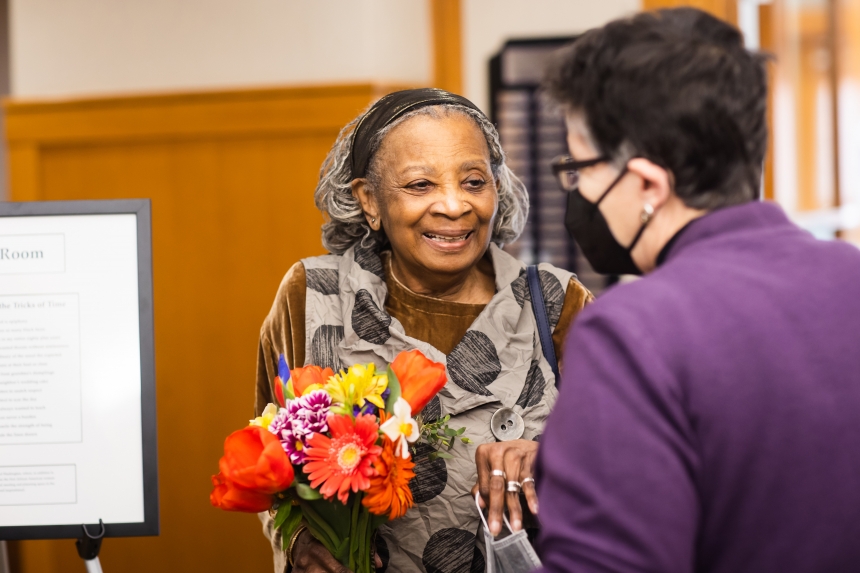 https://artsci.washington.edu/news/2022-05/colleen-mcelroy-honored-through-room-dedication
https://www.bethanyareid.com/wp-content/uploads/2023/04/548d6e412c30008597117e21fd32fc7b.jpeg
293
448
Bethany
https://www2.bethanyareid.com/wp-content/uploads/2021/02/reid-logo-161-300x125.gif
Bethany
2023-04-21 20:32:52
2023-04-21 20:34:02
Colleen McElroy, Blood Memory