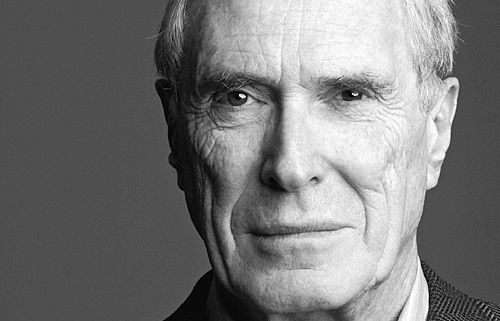 DARK HARBOR: A POEM, Mark Strand. Alfred A. Knopf, New York, 1994, 54 pages, $11 paper.
I forget who told me that I must read this book. I had, previously, read only a handful of anthologized poems by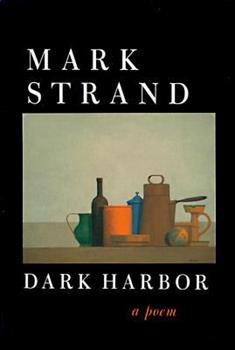 Mark Strand, and decided it was time. And then the book sat on my shelf. Until this morning. Well, until Sunday, when I began it, and Monday, when I utterly failed to "get" it, until this morning when I decided to sit quietly and ask nothing of myself except to reread the book all the way through.
Dark Harbor: A Poem consists of a proem and 45 numbered sections. I knew, from quickly browsing the internet, that it was about death, about loss. I recoiled from it, feeling "the emperor has no clothes." But rereading it helped me to see the arc of the narrative, how Strand turns aging and death into a journey, escorting us through a geography that is both surreal and familiar. "I would like to step out of my heart's door," begins section XVIII, a quotation from Rilke, and continues:
I would like to step out
And be on the other side, and be part of all

That surrounds me. I would like to be
In that solitude of soundless things, in the random
Company of the wind.
On my second, more patient reading, when I reached the last poem—"I am sure you would find it misty here, / With lots of stone cottages badly needing repair. / Groups of souls, wrapped in cloaks, sit in the fields // Or stroll the winding unpaved roads"—I knew this geography, and could feel my own feet on the path.
Strand takes us both forward, into death itself, and backward along corridors of memory opening into the rooms of mature life (sex, wine, music, books), and all the way to childhood, where, frightened, the poet runs from the roar of the ocean into his mother's arms. In XL, these lines: "And after I go, as I must / And come back through the hourglass, will I have proved / That I live against time, that the silk of the songs // I sang is not lost?" There's melancholy here, but also a playfulness, poet as astronaut/time-traveler.
Dark Harbor challenged me, made me feel as though I was in graduate school again. At the same time, knowing I would have to write about it made me stretch myself to find a place to stand. I'd be remiss if I didn't credit this over-the-top review by David St. John, in the Los Angeles Times. Noticing, or letting myself notice, Strand's poetry—for instance, his use of meter and anaphora (repetition at the beginnings of line or phrases)—also helped.
When I came (again) to part XVIII, with its quote from Rilke, I suddenly knew what was going on (so much so that I turned back to the beginning and began yet again). Yes, this is Earth, perhaps, but brooded over by angels, "Flightless… / Down by the bus terminal, hanging out, / Showing their legs, hiding their wings…" like in the film, Wings of Desire, directed by Wim Wenders…, but, I digress.
Here is one section, from early in the book:
II

I am writing from a place you have never been,
Where the trains don't run, and planes
Don't land, a place to the west,

Where heavy hedges of snow surround each house,
Where the wind screams at the moon's blank face,
Where the people are plain, and fashions,

If they come, come late and are seen
As forms of oppression, sources of sorrow.
This is a place that sparkles a bit at 7 p.m.,

Then goes out, and slides into the funeral home
Of the stars, and everyone dreams of floating
Like angels in sweet-smelling habits,

Of being released from sundry services
Into the round of pleasures there for the asking—
Days like pages torn from a family album,

Endless reunions, the heavenly choir at the barbecue
Adjusting its tone to serve the occasion,
And everyone staring, stunned into magnitude.

—Mark Strand, from "Dark Harbor"
I learned on Saturday that a former colleague of mine, younger than I, and also a poet, a woman I greatly admired, has died. Standing back from this book, I see in retrospect that the news of her death made me reluctant to embrace this poem. She had worked at the college as an adjunct for several years, and I'm proud that I served on the hiring committee that chose her for a full-time position; I remember running poems past each other, back when her office was on the hallway near mine; I regret that I so profoundly lost touch with her. Life is a journey, and our choices can narrow our passage, or expand it.
Mark Strand was one of the greats, with many books, and was elected Poet Laureate of the United States in 1990. His 1999 book, Blizzard of One, was awarded the Pulitzer Prize. You can find out more at Poetry Foundation.
https://www.bethanyareid.com/wp-content/uploads/2023/04/mark-strand-1.jpg
500
500
Bethany
https://www2.bethanyareid.com/wp-content/uploads/2021/02/reid-logo-161-300x125.gif
Bethany
2023-04-26 17:47:43
2023-04-26 17:47:43
Mark Strand (1934-2014), Dark Harbor: A Poem