A NAIL THE EVENING HANGS ON, Monica Sok. Copper Canyon Press, Post Office Box 271, Port Townsend, Washington, 2020, 64 pages, $16 paper, www.coppercanyongpress.org.
You know those poems you write into your commonplace book or send to friends when they go through a hard time?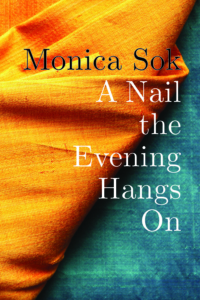 The poems in A Nail the Evening Hangs On are not those poems.
"A daughter of survivors" ("Self-Portrait as War Museum Captions"), Monica Sok acts as witness for the Cambodian diaspora. Although she was born in 1990, in Lancaster, Pennsylvania, and now teaches in California, Sok's relationship to America feels tenuous, on trial, as she retells, re-imagines, and brings to vivid life the 1970s genocide previous Cambodian generations escaped, and the trauma they brought with them and handed down.
Words such as "unflinching," "powerful," and "loss" abound in the reviews. From the cover:
"Embracing collective memory, both real and imagined, these poems traverse time to break familial silence. Through persona, myth, and invention, Sok joins voices and fragments in a transformative work that builds toward wholeness."
The book is arranged in three sections: the first section is set in Cambodia; the third in the poet's contemporary life (riddled by memory); the second section is one poem in parts about a visit with a six-year-old to a war museum, Tuol Sleng:
A boy runs through the halls of Tuol Sleng,
his narrow footsteps turn it back into a school.
He checks every classroom for the other kids.
He sits in a chair and waits. When I walk in,
he whispers, ghost.
In short, these poems struck me as both haunted and necessary. By the time I reached the final poem, "Here Is Your Name," I, too, felt transformed by the poet's memory, by her powerful witness of war's legacy.
Windfall

The fishermen, desperate, poisoned them with a cloudy gasoline
so they dropped like apples to the ground underneath a tree.

Except these were birds out of water, the conservationist said.
Sarus cranes, their long legs still wet, were sold for $200 each

at the border market, where Thais bought them and turned around.
After the war, that was how the local villagers made money.

The cranes, near extinction, migrated to waters near a Khmer Rouge holding,
where no one dared go, not that a mandate said keep out, no sign written

in blood. They rationed their food, knowing the pendulum of war
could swing anytime, and they'd need something to eat before evacuating.

They were sure it wasn't over. Invisible the egrets and ibises, invisible
the forests of the eastern border to the one they shared with Laos.

This is why the wind blows a drought hard across the land, tonnage of life
destroyed in the invisible, invisible land.

—Monica Sok
So there is beauty in this book, but it breaks your heart.
To find more poems by Monica Sok, visit her webpage: http://www.monicasok.com/, or The Poetry Foundation.
https://www.bethanyareid.com/wp-content/uploads/2023/04/Monica-Sok_high-res2.jpg-scaled.jpg
2560
1707
Bethany
https://www2.bethanyareid.com/wp-content/uploads/2021/02/reid-logo-161-300x125.gif
Bethany
2023-04-25 16:02:01
2023-04-25 16:02:01
Monica Sok, A Nail the Evening Hangs On