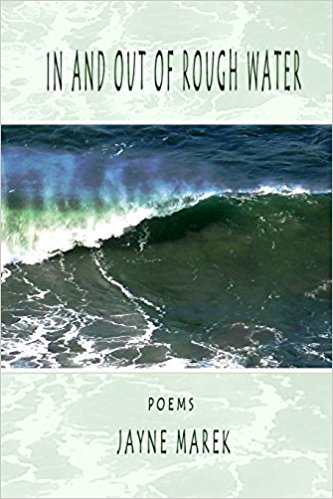 Although Jayne Marek is a relative newcomer to the Pacific Northwest (transplanted from Indiana, where she taught at Franklin College), she is a fast learner. I imagine her striding about the landscape — trails, riversides, boggy acres — notebook, camera, and guidebook in hand — translating all of it into poems and photographs for an eager audience.
In addition to native flora and fauna, she has also made herself at home amid our regional poets. In this poem, she responds to William Stafford's "Ask Me":
To Ask Me 
–for William Stafford
I will listen to what he says
in the poem of water and winter,
the ice crust of his judgment.
Wet branches drag into the sweep
of drifts, skirting the oldest tree
in its heaviness of heart. What he meant
shifts all the land around me,
a cold blue wind.
But who can say that hate or love's
what swings the ice-bound branches
overhead. Can I trust him? —
that secret-heart, that man
of miles of blank fields pressing snow-fences
as if to flatten them —
the truth's what the black bird says
on its wire:
a path is itself and nowhere.
What our feet can grip,
we may not see. So move.
Jayne Marek, In and Out of Rough Water (Kelsay Books, 2017)
https://www.bethanyareid.com/wp-content/uploads/2018/04/jayne-marek.jpg
499
333
Bethany
https://www2.bethanyareid.com/wp-content/uploads/2021/02/reid-logo-161-300x125.gif
Bethany
2018-04-30 05:52:20
2018-04-30 05:52:20
Jayne Marek's In and Out of Rough Water