A BLACK ODYSSEY: COLLECTED POEMS, SETH. Mercury HeartLink, Albuquerque, NM, 2012, 108 pages, $15 paper, www.heartlink.com.
Gregory Seth Harris, the poet better known as SETH, has been attending the Chuckanut Sandstone Writers Theatre on
Zoom for the last several months. He is now here in person, having trekked to the Pacific Northwest from Denver, Colorado, where he is a well known performance artist. I had the privilege of driving him to west Seattle's C & P Coffee Company Wednesday evening for Poetry Bridge and a book-launch with featured reader and local poetry raconteur, Paul E. Nelson (more about him in a later post). We then took part in their first in-person "community mike"  in two years.
On Friday evening, April 15, he is the featured reader at Book Tree in Kirkland. (Click on the link to learn more.)
On April 23 he is giving a workshop on performance in Bellingham. (See the poster below.)
On the back cover, David J. Rothman calls SETH "a force of nature." Art Goodtimes: "always an experimenter willing to push the cultural boundaries, happy to take the Apollonian crowd on tour…"  "Homer would clap," is how Rosemary Wahtola Trommer chooses to begin her cover blurb, but so, I think, would Whitman. These poems are raucous with imagery and a wild, sometimes shocking, always entertaining excess. In the Acknowledgments, SETH explains the ordering of the book:
I have a reputation for taking risks. Truth is, I just don't know any better. Ostensibly, this collection is my attempt to cram 30 years of poetry into one volume. Not wishing to publish them in chronological order, group them according to time period or by style and content, I opted to arrange them according to my favorite epic tale. Why not? Odysseus is my favorite literary hero. Many of my poems reference some aspect of his journey. Plus, his trials and triumphs have often served as a beacon to several of my own struggles, lighting a clear path during periods of uncertainty. (ix)
In the first poem, "A Poet Petitions His Muse," that epic journey launches — almost "everyman" (or "every writer") but with an insistence on this poet, specifically: "that blank page / a smooth flat placid white man / of a face / glowering up at me / eyes narrowed, mouth clamped shut / black dash / thin as an eyelash."
From the section titled "A Gathering of Shades":
Sometimes Up

Sometimes up is underground
On a subterranean verandah; new sound
Percolating new language; half mantra, half howl
When iambic pentameter has reached its limit
And a bloody continent eclipses the spastic sky
Where the sun wears false eyelashes
And every dandelion becomes a critic
When Humpty Dumpty is tumblin' down
Sometimes up is underground

So when the heart's voltage assumes fetal position
And the flies in your mustard crack a wan smile
Consult the long-haired spiders chewing cobwebs
Dance with roaches, chat with Frankenstein
Don't let that cat in your tree fade with a frown
Get your soggy soul down under
Cause sometimes up is underground.

— SETH
You can learn more at https://www.wagingart.com.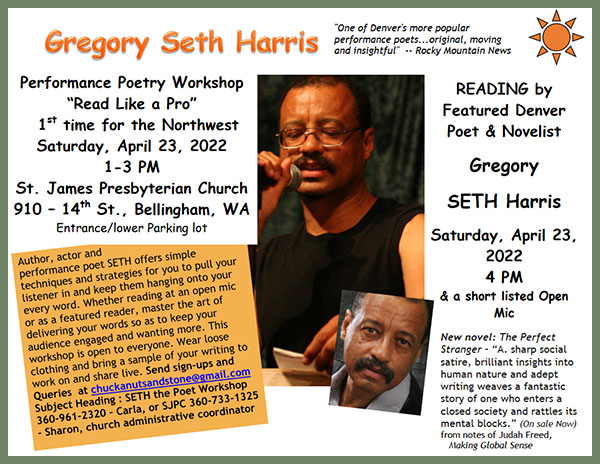 https://www.bethanyareid.com/wp-content/uploads/2022/04/IMG_1890-scaled.jpeg
2560
1920
Bethany
https://www2.bethanyareid.com/wp-content/uploads/2021/02/reid-logo-161-300x125.gif
Bethany
2022-04-15 16:23:49
2022-04-15 16:26:21
SETH, A Black Odyssey