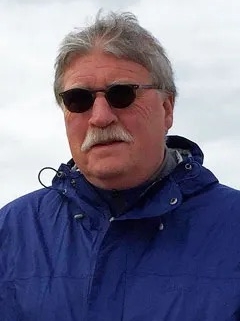 VANISH, Kevin Miller. Wandering Aengus Press, PO Box 334, Eastsound, WA 98245, 2020, 81 pages, $18 paper, https://wanderingaenguspress.com/index.html.
Kevin Miller's poems are rooted in the material world, juice glasses, wet laundry, garden hoes, baseballs, beer and Lucky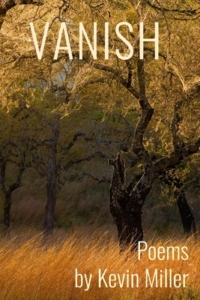 Strikes, but also blossoms, chickadees, rivers. In Vanish, which won the 2019 Wandering Aengus Book Award, that world seems about to blink out. In the title poem, the first in this collection, the word itself seems at risk: "whispers its swish of sound / as a trail of breath follows / an image you hold like the title / of the film you saw two nights / ago, no longer on the tip of anything…"
Paula Meehan describes Vanish as "teem[ing] with ghosts and their reckonings…narrative raised to elegiac heights." But those heights are shot through with particularity, grounded in things.
Which makes me think of William Carlos Williams: "No ideas but in things!" And Sylvia Plath: "I love the thinginess of things." I loved spending the morning in Miller's world, and with these poems. Here's one:
It's Like Weather

Sixty days without rain, the leaves
fall from heat, the colors fail fast
as if too soon the surrender,
loss without regret, you miss rain
like some miss breakfast, or a cigarette,
what it is—day after day sameness
until you want to scream, and you
know no one's at fault, still fault
settles it, allows blame, and blame
feels good, like a shot of vengeance,
it bruises in ways the fall colors
come alive under the skin, again
a fall, a parting, a loss you forget
with the first storm, when a fire,
tea, and a blanket find you together,
cozy enough for a change, though
too long under a relentless sky
becomes its other side, and you long
for the same sun, forgetting where
fault lay, nevertheless fault sends you
to your corners until first snow
or spring thaw turns you to each other,
and when this happens, you turn
blame to praise, overdue gratitude,
for if you made the dark, you must give
the light, if you kept the rain, you might
have brought the sun, and since no god
sleeps next to you in these beds, you share
the blame. Make praise your daily bread.

—Kevin Miller
"Make praise your daily bread" is such good advice.
I'm trying to find a way to point out that many of these poems are about marriage—both its dailiness, I think—but, more important, the gift of it (and, it seems, several grandchildren). I'm compelled to share one more short poem, in part because a second title beginning "It's Like" caught my eye, but also because I wish I had written it.
It's Like Feeding Horses

in a snowstorm, the sky descends
like a veil and conceals pastures an acre
at a time, the order that is fence lines
disappears in the marriage of earth and sky
as the two of you dish the flakes, collars up,
heads down, and what doesn't vanish
is the idea of the horses and each other
silent within the whistling quiet of storm.
This is work whether you see it or not.

—Kevin Miller
Kevin Miller is a retired teacher—another connection—and lives in Tacoma, Washington. I've never met him, but he feels like an old friend.
I first encountered his poetry at Loren Webster's blog, In a Dark Time, and you can skip over there to see another poem. Find additional poems at Terrain.org.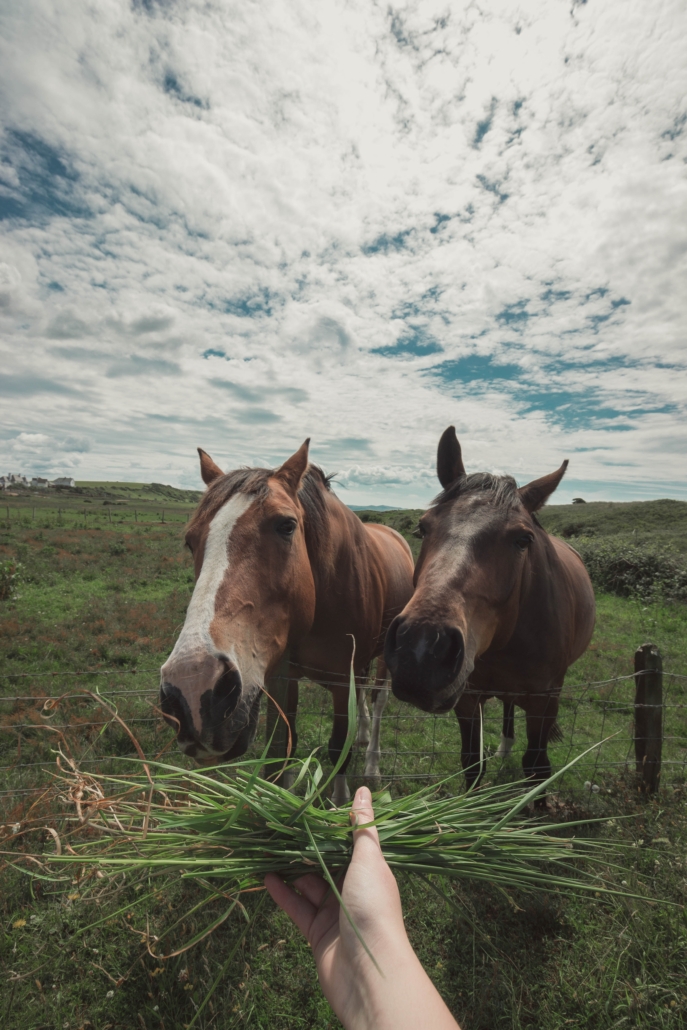 https://www.bethanyareid.com/wp-content/uploads/2022/04/kevin-miller.jpg.jpg
357
240
Bethany
https://www2.bethanyareid.com/wp-content/uploads/2021/02/reid-logo-161-300x125.gif
Bethany
2022-04-14 18:32:29
2022-04-15 04:32:05
Kevin Miller, Vanish