THE GIRL WHO GOES ALONE, Elizabeth Austen. Floating Bridge Press, 909 NE 43rd St, #205, Seattle, WA 98105, 2010, 40 pages, $12 paper, www.floatingbridgepress.org.
I was excavating shelves, looking for a more recent Floating Bridge chapbook—which I know I purchased last year—and I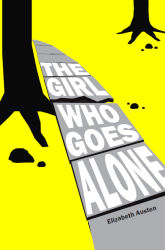 turned up this one. Yes, I read it a long time back, with pleasure, but it hasn't ever made it onto the blog. So, here we are, another book about a poet, walking.
The Girl Who Goes Alone won the Floating Bridge chapbook award and was Elizabeth Austen's poetry debut. Since 2010 she has gone on to write several books, including the full-length Every Dress a Decision (2011). She served as Poet Laureate of Washington State from 2014-2016. She is an acclaimed teacher and speaker. Her poems capture the "trance-like tidal pull / of sweat and flesh" ("For Lost Sainthood"), while at the same time eluding any grasp. Dave Meckleburg described The Girl Who Goes Alone as "an excellent feminist manifesto," that "becomes a guidebook through the wilderness of being human that anyone can use." Exactly.
In the title poem, warnings abound, "girls outside aren't safe," "Girls must be chaperoned":
Tell someone you're going into the woods alone
and they'll fill your ears with every story they've ever heard
about trailside cougar attacks, cave-dwelling misogynists
lightning strikes, forest fires, flash floods
and psychopaths with a sixth sense of a woman alone in a tent.
But, this girl? She goes everywhere. (You can hear Austen read this poem at her website.)
Consequence

In case the river calls me, I carry
two stones. But this is a lie, Virginia.
I have only enough courage to carry on.
These stones are nothing more
than pocketed threats. I am not
anyone I expected to be.
Give me some message, dreamer
or give me back my sleep. Are we here
by grace? Virginia, you knew
the consequence of silence.
This page is the only prayer I know, the line
I follow into darkness. Is there anything
the body, the breakable body
can say or save?

—Elizabeth Austen
Learn more about Austen's awesomeness at Pictures of Poets, https://wapoetlaureate.org, or her website. Be sure to check out some of her videos!
https://www.bethanyareid.com/wp-content/uploads/2022/04/Elizabeth-Austen2-1024x1024-1.jpg
1024
1024
Bethany
https://www2.bethanyareid.com/wp-content/uploads/2021/02/reid-logo-161-300x125.gif
Bethany
2022-04-13 18:19:14
2022-04-13 18:19:14
Elizabeth Austen, The Girl Who Goes Alone