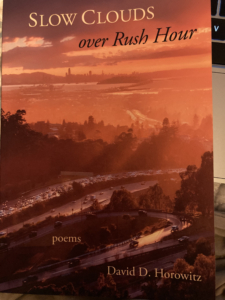 David D. Horowitz, as most Seattle poets know, is Rose Alley Press, which began in 1995, championing poetry in general, meter and rhyme wherever possible, and Northwest poets specifically. Among the many, Rose Alley has published Michael Spence, Joanne Kervran Stangeland, Donald Kentop, and one of my professors from UW days, William Dunlop. David is also responsible — barring a pandemic — for poetry readings in coffee houses and libraries all over the region to celebrate Rose Alley's anthologies (most recently, Footbridge Above the Falls: Poems by Forty-eight Northwest Poets).
In her cover praise for David's newest book, Slow Clouds over Rush Hour, Carolyne Wright calls the poet a  "Moralist and wit, latter-day Catullus or perhaps the Blake of Songs of Experience transposed to the 21st century." But even though many of the poems refer to days and poets gone by, I can't help feeling they are always a chronicle of our post-modern life, reporting on the political stew, a mother's decline into Alzheimer's, "the rat race" (and cats, too). As Wright points out, Slow Clouds also captures moments of "quiet enjoyment, when the speaker, a human cog in the corporate machine of his day job, puts aside the allures of overachievement and savors, at evening, 'this scarlet rose, / Vase, lamplit valley view.'"
I'm compelled to share at least one couplet from Slow Clouds over Rush Hour:
How to Be an Editor

Learn how to use a period and comma
And how to spell "baboon" and "llama."
And here's one of those "quiet enjoyment" poems from the last pages:
Glow and Glitter

Gray sunlight whitens undecided sky — and peeks
Through clouds, which start to dissipate. Gold streaks
Help thaw restraint. Another sunny day despite
More news of shooting, theft, and feuding fight.
Where threats and violence might seem the norm,
A simple sunray might enliven, warm,
And calm. So, beauty trickles through a break
And giggles glitter on the city lake
And shimmers, simmers silver surface, streaks
It gold. Through haze, I think I see the peaks.

— David D. Horowitz
On April 10 — 1:30-5 p.m. — there will be an actual book-signing, with real live people and everything (with all precautions) at BookTree in Kirkland. In corresponding with David, I also learned that he will be doing a Zoom reading for Edmonds Bookshop on Thursday, April 22, 6 p.m., along with Carolyne Wright, Jim Bertolino, Anita K. Boyle, and Douglas Schuder. (The best place to find the Zoom link for Edmonds is on their Facebook page or at the website, https://edmondsbookshop.indielite.org.) Follow this link to learn how to purchase Slow Clouds over Rush Hour as well as other Rose Alley Press titles.
https://www.bethanyareid.com/wp-content/uploads/2021/04/nationalpoetrymonth.png
1080
1080
Bethany
https://www2.bethanyareid.com/wp-content/uploads/2021/02/reid-logo-161-300x125.gif
Bethany
2021-04-03 14:52:38
2021-04-07 17:48:12
David D. Horowitz