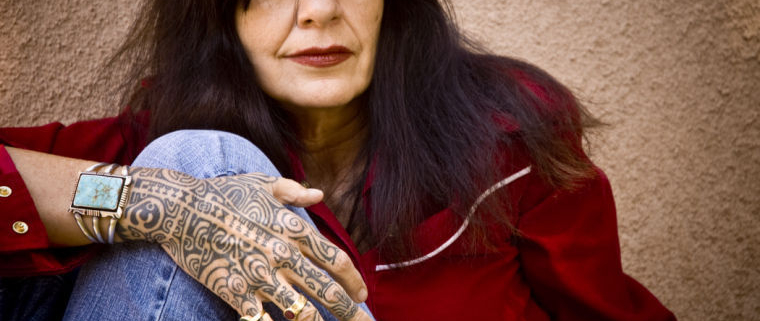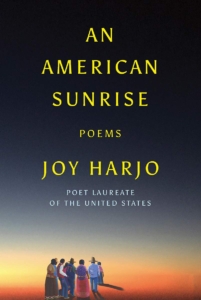 Consider this my little National Poetry Month party for our current United States Poet Laureate, Joy Harjo. There isn't much I can add to the abundance of material already on the web — reviews, You Tube interviews, music and performance videos — but I can at least point you in their direction.
In addition to being a poet and writer of the Muscogee (Creek) Nation, Joy Harjo is an internationally renowned performer. (Click on her name to find a wealth of information.) She is the executive editor of the 2021 anthology, When the Light of the World Was Subdued, Our Songs Came Through, and her most recent book of poems is American Sunrise. In 2016 I read (devoured) her memoir, Crazy Brave, and then gave it to a dear friend. I met Harjo in 1993, when I was serving on the committee for the Watermark Reading Series at the University of Washington, and at one time I had all of her books. There is something about the way Harjo unleashes color and image, the incantatory voice of these books that demands to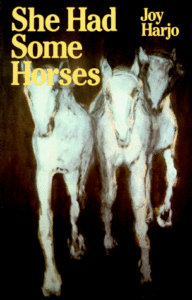 be shared.
Harjo ends her 1983 book, She Had Some Horses, with these lines (from "I Give You Back"):
I take myself back, fear.
You are not my shadow any longer.
I won't hold you in my hands.
You can't live in my eyes, my ears, my voice
my belly, or in my heart my heart
my heart    my heart

But come here, fear
I am alive and you are so afraid
of dying.
Finally, for a more recent look at her, and her work, click on this video — a kitchen table poem to take with you into your day and your month of poetry:
https://www.joyharjo.com/videos/joy-harjo-read-perhaps-the-world-ends-here
https://www.bethanyareid.com/wp-content/uploads/2021/04/5c0848a86f74d.image_.jpg
505
760
Bethany
https://www2.bethanyareid.com/wp-content/uploads/2021/02/reid-logo-161-300x125.gif
Bethany
2021-04-02 14:42:43
2021-04-07 17:54:55
Joy Harjo