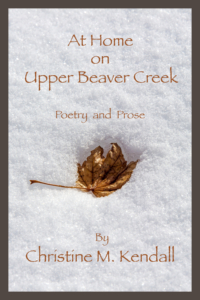 At Home on Upper Beaver Creek (2020) is Christine M. Kendall's third book (after Talk, A chapbook, 1998, and Resting in the Familiar, 2017). To create her books, Christine seeks coaching and input from her writing group, and has the books professionally designed (by Jack Kienast) and printed (by Norman Green of Threshold Documents).  She put together At Home for a show at the Confluence Gallery in Twisp, Washington, for the residents of Upper and Lower Beaver Creek Roads where several artists of the Methow Valley reside.
Because I know Christine, I invited her to answer some questions.
1.What is your process in assembling a poetry book? Do you imagine the book — perhaps its theme or title — and write into that, or do the poems come first? 
For both the chapbook and my first collection I had a stack of poetry I had written, some had been published in journals, a few in anthologies, but publishing the poems in a collection was for me a way of giving them a home.
For At Home on Upper Beaver Creek, responding to the call for the Confluence Gallery exhibit was an incentive to create a collection of poetry about living on Upper Beaver Creek and as I began the work, orders to shelter in place began because of COVID.  All but two of the poems in the book were inspired by what I experience here on our 20 acres.  A few of the poems were published previously, but most came to me on daily walks with our dog Gus.
2. How do you decide the order of the poems?
For Resting In The Familiar, my editor, Mary Gillilan, ordered the poems into five sections with poems about family, places I've traveled to, general observations, grief, and self-reflection. For At Home on Upper Beaver Creek the book is ordered by the seasons, beginning with my favorite season here, winter.  The sections have a pen and ink illustration for each season (by Kathy Brackett).
3. How do you know when a book is "done"?
I think for me that's where a good editor comes in.  I hope to do another book as I have a lot of poems that need a good home between covers and someone to say, "enough is enough!"  Also, I need someone who can help me shape the collection into a logical order, as I tend to write on a variety of subjects.
Bellingham poet, editor, and blogger J. I. Kleinberg writes of this book:
In At Home on Upper Beaver Creek, Christine Kendall shares her wonderment at the cycle of the seasons. From her home in Central Washington–a landscape of ancient glacier-scraped, boulder-strewn hillsides, forests, and fiercely nourished homesteads–she shows us the 'hierarchies and appetites' of eagles and ravens, torrential rain and fire.
I'm amazed at Christine's adept switch into "pandemic mode," her ability to capture the early, difficult months of the lockdown and make us all see that perhaps being in forced seclusion wasn't a hardship, but an opportunity for sabbatical. My favorite poems here are the ones in which the poet is out walking. Because I have a fondness for coyote poems, this one made an obvious choice to share. We can credit Christine's dog, Gus, whose perspective reminds us to look at the world through other eyes.
The Prize

The dog brought home a coyote
skull, a bone to him,
a scent, a treasure, not kith
and kin. Stripped clean,
there's no connection
to howls that prick up
his ears after dark.

No connection to marks
left–intoxicants to sniff–
he knows coyotes by whiffs
on a breeze, he's seen them
in the distance tracking across
fields. Once, a coyote chased
him, my high-pitched screams
diverting it.

We kept the skull. Hollow
sockets once held watchful eyes,
the cranium a brain, and
ears to hear other packs howl
on hillsides; tonight progeny
will watch a full moon rise.

–Christine M. Kendall
Christine's books are available from Village Books in Fairhaven, Bellingham, and also through confluencepoets.com, her group's webpage, which has a shopping section.
The featured photo for this post is courtesy cottonbro from Pexels.
https://www.bethanyareid.com/wp-content/uploads/2021/04/pexels-cottonbro-4921283-scaled.jpg
2560
1706
Bethany
https://www2.bethanyareid.com/wp-content/uploads/2021/02/reid-logo-161-300x125.gif
Bethany
2021-04-01 19:10:51
2021-04-02 16:33:07
Christine M. Kendall