RISKING IT, Sylvia Byrne Pollack. Red Mountain Press, Seattle, WA, 2021, 68 pages, $19.95 paper, www.redmountainpress.us.
Today's gift is a recent book by a local poet, Sylvia Byrne Pollack. Pollack first crossed my radar in March 2021, in a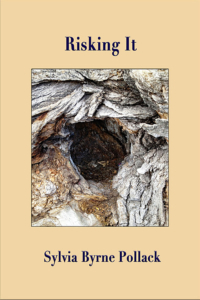 Seattle Times  article: "At age 80, Sylvia Byrne Pollack of Seattle will publish her first book of poetry."
As my friends push toward 80, her age seems less surprising than it once may have. But even so, a noteworthy accomplishment.
Not that Pollack has been idle up to now. She earned university degrees in both zoology and developmental biology, then earned a master's in psychology. Although she has retired from her career as a cancer researcher, she brings all these lenses to her poetry.
And more, of course. In these poems Da Vinci's Mona Lisa gives up a few secrets and "Trellised tomatoes / splay…. / get drunk on their own sweet juices"; the poet ripens, and a persona named "the deaf woman" laments the Trump presidency. I got a little drunk on the poems with their exquisite detail and sonic pleasures. As Sharon Bryan promises on the book's back cover:  These poems "dare us to be fully present in our lives."
Island Time

Out on the island I know how things mesh,
how the tides wash and rinse kelp beds
every six hours, rising then falling, shifting
month by month so summer's extremes
become the gentle sloshing of equinox.

On the island I know where to pick blackberries,
how to find the Good Cheer Thrift Store or a farm
with fresh eggs. I know which beach yields sand dollars,
where to dig clams, pick mussels. I collect
drift wood, boil crabs, compose a chowder.

Out here I've learned the patience of herons
studying light and shadow. They wait for
ripples, glints of light, stand rooted to one spot
only as long as the fishing is good.
They keep their own schedules.

From my cabin I look east at the hulk
of the mainland, glad to be where time
is elastic, stretches and snaps back—
longline trolling me through seasons
of decision and desire.

—Sylvia Byrne Pollack
I recorded this poem, too. And (if I got my technology right) you can listen to it below.
You can watch the book launch on Facebook: https://www.facebook.com/watch/live/?ref=watch_permalink&v=493697958573100.
Read more about the poet in this Entropy review by Mary Ellen Talley: https://entropymag.org/risking-it-sylvia-pollack/
https://www.bethanyareid.com/wp-content/uploads/2022/04/03222021_pollack_165233.jpg.jpg
1700
2048
Bethany
https://www2.bethanyareid.com/wp-content/uploads/2021/02/reid-logo-161-300x125.gif
Bethany
2022-04-08 19:06:56
2022-04-08 22:31:29
Sylvia Byrne Pollack, Risking It