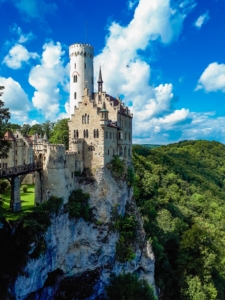 Here's a thumbnail portrait of today's process…
I tried to take seriously Chris Jarmick's assignment for day 28, to "translate" a poem into English from a language I don't know. I found a poem by Johann Wolfgang von Goethe and printed it out. I carried it around. I don't know German, but I thought I could make out a few of the words. I opened my poetry book and copied out the poem in longhand. It's a longish poem ("Erlkoenig" is the title, I think) and I thought I would copy only a stanza or two, but I ended up copying the whole thing. Then…for a long time…I stared at it. Then, I wrote this (please excuse the lack of cool accent marks):
Resisting Translation
The assignment is to translate a poem into English
from a language I don't know–
and knowing so little of languages other than my own,
it seems an easy enough assignment.
"Translate," in smart quotes, which must mean,
"not really translate," though I can guess
that Nacht und Wind 
means Night and Wind. (Is that cheating?)
Assignments, I tell my students, are about
getting out of our accountant, linear left brains
and into our creative, more imaginative
right brains, into what poets count our better half.
But aren't I beyond assignments, beyond
all that sturm und drang, not to mention the Nacht
und Wind? No knave or knabe, not I.
And spat (which I looked up) has nothing to do with spitting,
not even a spitting wind. Mein Vater, my father,
let me off the hook of this difficulty,
let me mutter and growl in my own tongue,
write (whatever it might mean) birgst du so bang. 
https://www.bethanyareid.com/wp-content/uploads/2014/04/pexels-skylar-kang-6207364-scaled.jpg
2560
1696
Bethany
https://www2.bethanyareid.com/wp-content/uploads/2021/02/reid-logo-161-300x125.gif
Bethany
2014-04-28 20:59:03
2023-02-13 03:45:54
Day 28: Translation